CONCERTS AND PERFORMANCES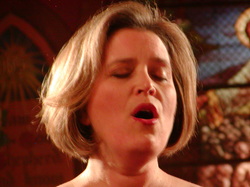 Karen Rae Wilson is a master of self expression, she sings with a beautiful, sometimes heartbreaking power and conviction. A Canadian performing artist, presently living in San Francisco Bay, Karen Rae's deep poetic nature, Celtic background and the incandescent beauty of both of
her lyrics and her singing voice
leaves audiences spellbound and soul inspired to preserve the natural beauty and wonder of our world.
Some of her self produced and original concerts include:
Sacred Earth-Sacred Waters
,
Songs of Grace and Wisdom for the World
and
Many Women, One Voice
, her one-woman show celebrating the unstoppable power of the feminine spirit.
"Ten minutes into the show, one is mesmerized by Karen's artistry, her inventiveness and her adroit changes physically, vocally and emotionally, as she becomes each of these women. Their stories are fascinating. They nudge us off our comfortable and safe center into a kind of astonishment. We are amazed what these women bring to their lives by taking the leap into the unknown. One leaves this performance changed inside and out quite satisfied. Good theater changes you, and this is great stuff. See it if you can. You'll be glad you did."
~ Lon Eakes, Drama Teacher, Napa Valley
---