IGNITING YOUR CREATIVE BRILLIANCE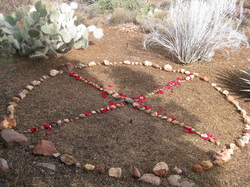 Transformational Retreats in Sacred Earth Places: Mt Shasta, Sedona, Vancouver Island, Avalon England, Sacred France

Next Upcoming Retreat:
Mt Shasta Retreat - Igniting Creative Brilliance July 15 - 20th 2015
Artistry is a path to self liberation and Oneness and
Sacred Artistry
is being willing to live a life of inspired destiny on a path of grace and Creation. The role of the
artist
and innovator in society is to bring forth bold new vision, soulful expression and social design. Karen Rae shares how the awakening of your
Creative Genius
is a key to being part of a larger community creating a brave new world.
This retreat is centred on finding the ultimate freedom is to live your greatest passions without fear, to know intimately who you are and to unleash your greatest human potential and giftedness in the creation of a better world. This is the invitation to live fully, open-heartedly and fearlessly.
"In these extraordinary and challenging times we are called to bring forward our greatness – these are times when extraordinary solutions spring forth from courageous hearts, brilliant minds and a passion to serve the greater vision for a larger community and a sustainable Earth." ~Karen Rae Wilson
MORE INFORMATION ON IGNITING YOUR CREATIVE BRILLIANCE RETREATS GO TO KAREN RAE WILSON ON FACEBOOK, EMAIL OR
www.wisdomculture.com
"Karen Rae helps you find the place within where you KNOW your own "Calling" the part of you that is Pure. She offers you insights that assist in moving you in the direction of doing what brings you joy, opportunity, and abundance."
~Ginger Harness, Artist


"Karen Rae Wilson thanks for sharing this and for continuing to hold such a beautiful light in the world. Do you know I started Singspiration Singers 25 years ago because of working with you doing the music for a show you produced? Thank you for being a catalyst to set me on a path that has helped free the voices of many, allowing me to free my own."
~Julie Blue: Singer Musician Composer
---